Szalunek to rodzaj formy służącej do nadawania kształtu mieszance betonowej. Jest on tymczasową konstrukcją wykonaną z różnego rodzaju płyt z materiału drewnopodobnego. Istnieje wiele metod wykonywania szalunku, jednak najbardziej popularne to szalunek tracony i tradycyjne szalowanie (deskowanie). W tym artykule chciałbym przedstawić Wam szereg zalet szalunku traconego związanych stricte z montażem.
Tradycyjne deskowanie
W nowoczesnym budownictwie deskowanie wykorzystywane jest do wylewania mieszanki betonowej do specjalnie skonstruowanej formy w celu uformowania zastygającego betonu, przy czym określa się żądaną grubość.
Jak wspomniano, w tradycyjnym deskowaniu forma jest tymczasowa, dlatego też związana z tym jest konieczność późniejszego usuwania szalunku, a co za tym idzie, zwiększają się koszty budowy, zaś czas prowadzonych robót jest znacznie wydłużony.
Alternatywą okazuje się być zastosowanie szalunku traconego, nowoczesnego rozwiązania technologicznego, co przekłada się na usprawnienie prac budowlanych.
Ekonomika pracy na budowie, czyli przewaga montażu szalunku traconego nad deskowaniem
Szalunek tracony jest na ogół wykonany z płyty cementowo-wiórowej, co zapewnia odporność na działanie niekorzystnych warunków atmosferycznych. Tym samym wykluczone jest powstawanie zawilgoceń, pleśni oraz grzybów.
Podstawową zaletą zastosowania szalunków traconych jest oszczędność czasu pracy w stosunku do tradycyjnego wykonania szalowania, na przykład deskowania.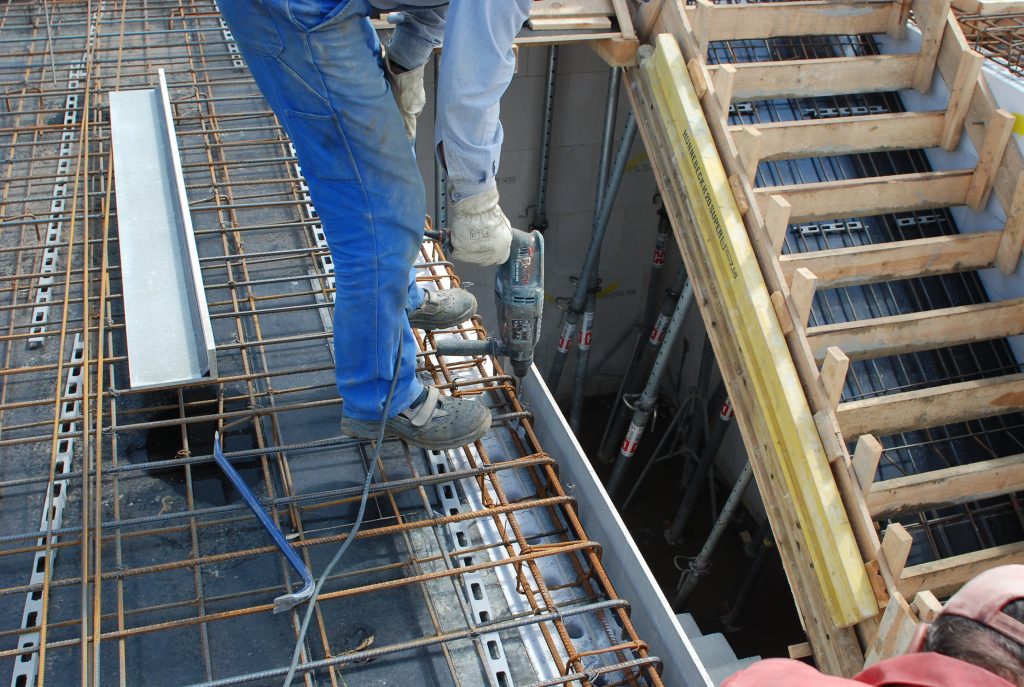 Warto również nadmienić, że koszty szalunku traconego są w ujęciu całościowym niższe od kosztów szalowania tradycyjnego, do których dochodzi podkuwanie betonowej wylewki, wynajem dodatkowego sprzętu budowlanego oraz większej liczby pracowników.
Szalunek tracony nie jest elementem rozbieralnym, co dla niektórych może być to niewątpliwą wadą, jednak należy zwrócić uwagę, że po zakończeniu prac betoniarskich stanowi istotny składowy element wykonanej konstrukcji, stając się izolacją termiczną budynku. Materiał, z którego jest wykonany, pozwala także na wyeliminowanie powstawania mostków termicznych w betonowanych elementach (ogromną przewagę w tej kwestii ma szalunek tracony docieplony styropianem XPS).
Szalunek tracony – montaż polega na:
ułożeniu szalunku na krawędzi muru,
umocowaniu szalunku za pomocą wkrętu do betonu komórkowego lub pianką montażową do pustaka ceramicznego.
Są to zaledwie dwie proste czynności, które dają ogromną przewagę w montażu szalunku traconego nad zwykłym deskowaniem.
Poniżej przedstawiam krótką listę porównującą konieczne do wykonania czynności podczas szalowania traconego i tradycyjnego:
| | | |
| --- | --- | --- |
| | Szalunek tracony | Szalunek tradycyjny |
| Montaż i demontaż rusztowania | NIE | TAK |
| Demontaż szalunku po zabetonowaniu | NIE | TAK |
| Podkuwanie | NIE | TAK |
| Poziom trudności montowania | Łatwy i bezpieczny na każdej wysokości; brak konieczności montowania rusztowania | Na większych wysokościach wymaga montowania rusztowania |
| Dostępność | Pracownicy mają gotowy produkt pod ręką, który jest złożony na palecie i postawiony przy pomocy dźwigu bezpośrednio na stropie | Konieczne jest docinanie zakupionych sklejek lub desek |
| Oszczędność materiału | Produkt docięty jest na żądaną wysokość, 100% wykorzystanie materiału | Możliwość 2- lub 3-krotnego wykorzystania; straty na odpadach |
Mam nadzieję, że te kilka zdań przybliżyło Wam zalety montażu szalunku traconego. Gospodarka wciąż się rozwija, koszty pracy coraz szybciej rosną, a bezpieczeństwo pracowników nie jest już niechcianym, spychanym w kąt tematem, toteż proponuję Wam szalunek tracony jako znakomite rozwiązanie niewygodnego etapu każdej budowy!
Jeśli chcesz dowiedzieć się więcej – zapraszamy na stronę www.szalunektracony.pl
Jeżeli potrzebujesz również innych materiałów budowlanych – odwiedź www.realbud.com